In YumaPOS solutions, the term category refers to a group of menu items with similar properties (such as salads, drinks, etc.). This topic helps you use and manage the Categories list.
View the Categories List
To view a list of categories
In the left pane of Back Office Management console, expand the Items List node, and click Categories List.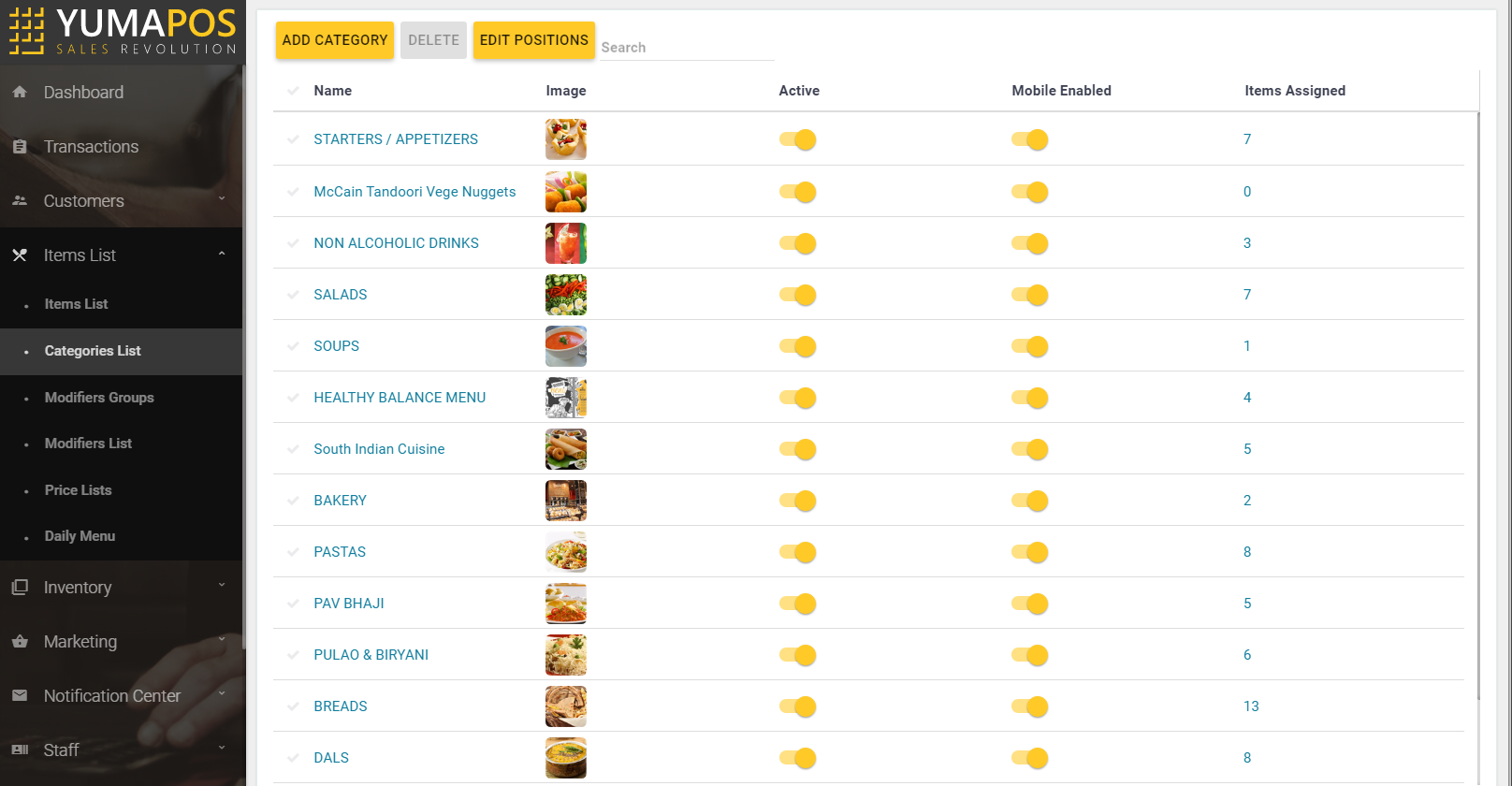 On this page you can do the following:
specify categories, which will be available in Customer Mobile app: to do so, turn the Mobile Enabled toggle button ON.
Add New Category
This section explains how to add new menu category to the Categories list.
To add new menu category
Click Add Category.
Complete the Add menu category form that opens, and then click Save:
The Add menu category form defines the following elements:
Name: specifies the category name (mandatory).
Active: specifies whether this category is active.
Mobile Enabled: specify whether items from this category are available in Customer Mobile app.
Refresh Menu Items Availability: turn this toggle button ON to update the availability of all child items with current availability settings (see the next element description).
[yellow bar]: allows you to set the days on which the category items are available in POS terminals and Mobile apps.
Sort by: allows you to select the sort type for items from this category.
Stores: specifies stores where this category is available.
Course: specifies the course for items from this category.
Printer: specifies the kitchen printer used to print out the orders with items of this category (for more information, see Kitchen Printers). 
Edit Existing Category
To edit menu category
In the Categories list, click a category to update.
In the form that opens (similar to the Add menu category form described earlier in this topic), make appropriate changes.
Click Update to save your changes.
Delete Categories
To delete categories
From the Categories list, select category(ies) to delete.
Click Delete.
When prompted, confirm the deletion operation.
IMPORTANT:

This operation permanently deletes the selected categories.
You cannot delete nonempty categories (the categories, which include at least one item).
Change Order of the Categories List
This section explains how to change the order in which categories are displayed in POS terminal apps and Mobile apps.
To change order of the Categories List
Click Edit Positions.
Change the list order by moving selected categories up or down.
When finished, click Save.
See also
 watch our help video about managing the Categories list: