This page describes your personal system settings such as the currency used in your stores, the taxation type, a maximum receipt limit, and some other advanced settings.
To open the System Settings page
In the left pane of your Back Office Management console, click Settings and then click System Settings: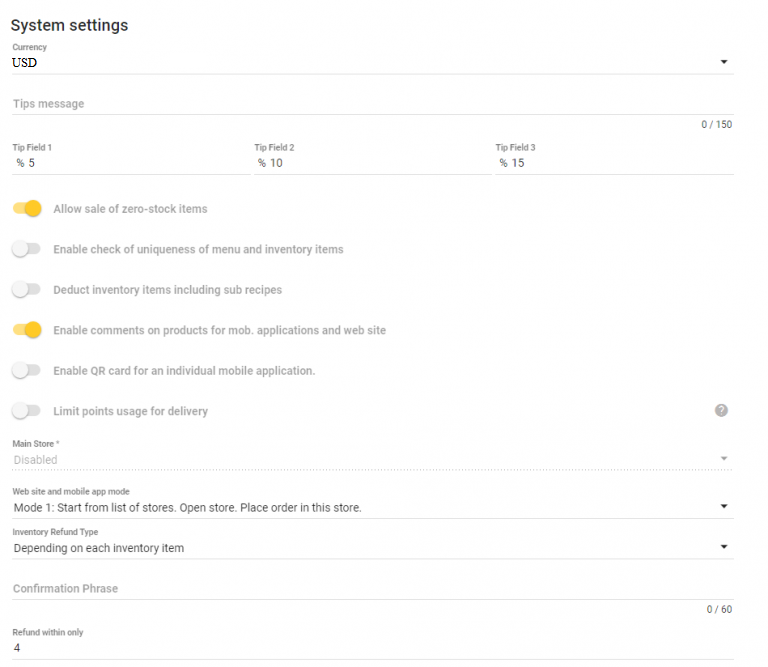 This page defines the following elements:
Currency: specifies the currency used in your stores.
Tips message: specifies an informal tips message to display for Mobile application users when they make an order.
Tip Field 1, Tip Filed 2, and Tip Field 3: specify tips calculated as a percentage of customer total bill. Example of Mobile application screen that prompts a customer to select the tips amount: 



Allow sale of zero-stock items: specifies your zero stock policy: when this toggle button is set to Off, YumaPOS system does not confirm orders that include zero stock items.
Enable check of uniqueness of menu and inventory items: when enabled, you cannot add inventory items with the same names.
Deduct inventory items including sub recipes: if enabled, when you sell dishes with nested recipes, YumaPOS writes-off only inventory items specified in the first recipe of the recipe hierarchy. For more information, see "Scheme for Writing-off Inventory Items for Dishes with Nested Recipes" in How to Use Recipes.
Enable comments on products for mob. applications and web site: when enabled, the customers that make their orders using Mobile app or the company site can add their comments to each order item.
Enable QR card for an individual mobile application:
Limit points usage for delivery: when enabled, the customers paying their delivery orders with loyalty points cannot decrease the order price lower than a minimum delivery order price or a minimum price for free delivery.
Main Store: specifies the Main store. In this case, the customers using Mobile app can make their orders only in the Main store.
Web site and mobile application mode: specifies the order processing mode.
Inventory Refund Type: for refunding orders, specifies whether to return the inventory items  that are components of the order items recipes. The following return modes are supported:

Depending on each inventory item: for each inventory item, the return mode depends on the state of its Returnable setting (for more information on the inventory items properties, see Managing Inventory Items and How to Modify an Inventory Item).
Always*: after refunding an order, the inventory items are always returned to a warehouse.
Never*:after refunding an order, the inventory items are never returned to a warehouse.
*NOTE: Independently of the Returnable setting for each inventory item.

Confirmation phrase: specifies a phrase to send to the Mobile app customers after the order confirmation, for example: "Your order is confirmed. Thank you!"
Refund within only: specifies the refund period (in days).
Tax Types: specifies the tax rate type to apply to sales. Depending on your country or region, you should apply the multi-rate sales tax or single-rate sales tax per item.
Start up points: specifies the number of the welcome loyalty points for newly registered customers. For more information, see "Point Program" in Customer Loyalty Programs.
Max Amount: specifies a maximum receipt limit (in the currency units).
Min Refund: specifies a minimum refund amount (in the currency units).
1 Point Currency Rate: specifies the point's rate (for example, if a point corresponds to 0.1 of a currency unit, set this field to 0.1).
Minimum Delivery Amount**: specifies a minimum receipt amount for delivery of orders.
Free Delivery Amount**: specifies a minimum receipt amount for free delivery of orders.
Delivery Charge**: specifies the order delivery charges covered by a customer.
**NOTE: For more information on the delivery settings, see How to Set the Order Delivery Charges.

TIP: On this page, specify all desired settings and click Update to save your changes.